Want to know how you can use ClickFunnels to promote Clickbank products? The read here to find out how and why you want to do it.
Hi there, my name is Richard, and you will now learn:
What is ClickBank
What is ClickFunnels
Why you want to use them both for maximum earning potential.
What is Clickbank?
Clickbank is one of the most known sales and affiliate networks out there. Clickbank is easy to use for sellers, but I will focus on affiliate marketing in this article. Clickbank has a lot of products in almost every niche.

What I like about Clickbank is there is so much to choose from, and it's so easy to find products and promote them. All you need to do is to apply to Clickbank, and you can promote all the products you like. You don't need to ask the seller to promote the product, like many other networks. You can find something you want and start promoting right away.
What is ClickFunnels?
ClickFunnels is a page and funnel builder where you can create beautiful pages and funnels. For promoting Clickbank products, you want to create lead funnels and bridge pages.

What I love with ClickFunnels is that it's easy and fast to create pages and funnels. ClickFunnels is made by an entrepreneur that is not tech-savvy and is made to help other entrepreneurs. Russell Brunson, the co-founder of ClickFunnels, was used to test ClickFunnels. If he managed to use the software and build funnels, then everyone can do it.
You can use ClickFunnels to build funnels and follow up on your leads with email marketing. Email marketing is a powerful method to connect to your leads and promote products. You should be able to earn $1 each month on each email address you have collected. After a time, this will be an income you can easily live off.
Another powerful benefit with ClickFunnels is it's so easy to test your pages. You clone your pages and change the headline or maybe the button color. After some time, you can see which version performs the best, and you can choose that one to be your main page. Then you continue to test your pages for optimal performance.
You can read my review of ClickFunnels here.
Why you want to use ClickFunnels to promote Clickbank products
You want to use funnels to promote your products. Funnels are a great way to get people to your offers. You offer a free report, checksheet, or similar free but valuable product, and your visitors need to give you their email address to receive the free product you are offering.
People love to receive a free product, and this converts many visitors to email subscribers. After they give you their email address, you can move them to the next step in the funnel, the bridge page. On this page, you sell the Clickbank product you are promoting. You also want to offer additional products that will make the Clickbank product even more irresistible to your visitor.
The reason you always want to give a bonus or a good offer is to provide the visitor with a reason to order the product through your affiliate link and not directly on the sales page.
Remember the products you are offering needs to be something that will improve their experience with the Clickbank product.
You can read more about funnels here.
How to promote Clickbank products with ClickFunnels
You have now learned what ClickFunnels and Clickbank are, but how can you start promoting products? You first need to find your niche.
How to find a niche
The first you need to do is find the niche you want to promote. You can't promote a bunch of unrelated products, you want to choose a niche where you have at least a couple of products. What you want is to have 5 products you can promote.
So start to write down some niches you know a little about. Then you want to write down a couple of niches that you want to learn more about. Then you go through the different niches in Clickbank and sort the products by gravity. Gravity is a number that represents how many that have made affiliate sales in recent time. The higher the better, and you want to choose products that have more than 15 in gravity.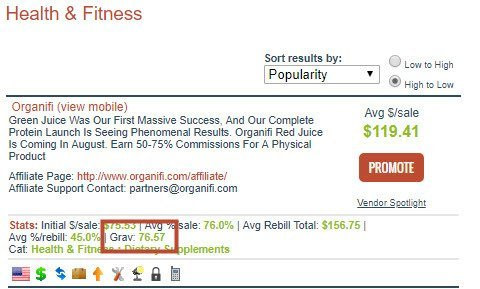 Write down how many products the niche has with a gravity above 15. You can also consider products down to 10, but never as your main affiliate offer. You also want to check the different sales pages to see how they are and if you believe in the product.
When you have your list created, you need to evaluate the niche you want to choose. You can pick the one with most products or the one you like best. There are so many reasons to choose a niche, and as long you know you have at least two good products to promote, you can continue.
I also advise you to order at least the main product you want to promote. That way you can help people if they ask some questions.
There are 3 main methods to go on with promotions. You will learn about them below.
The lead funnel
This funnels main goal is to collect leads. The landing page is usually short with a curious based headline and a few bullet points. On this page, you are giving away something for free. This is named lead magnet and should be something easy for the visitor to consume. Few people want to receive a long ebook or other freebies that takes a long time to consume. Give them something short and valuable that they can implement or use straight away.
When they give you their email address, you are sending them to the thank you page. On the thank you page, you want to present yourself and address how useful the freebie they will receive is. You are sending it to their email address, and you want to make the subscriber is excited so they will open and read what you have sent them.
You can also do some soft promotion of your chosen affiliate product on the thank you page.
If you want to know more about lead funnels, I recommend you to read my review of Lead Funnels made by Russell Brunson, the co-founder of ClickFunnels.
The bridge page
A bridge page is where you bridge the gap between the assumed knowledge the visitor has, and the offer you are promoting. So if you are in the golf niche, you need to explain why this product will help them. Even as an affiliate, you need to sell the affiliate products you are promoting. And you need to make sure the offer you are promoting is so good they can't resist it, and they have to order the product through your link. I have bought many products because of the bonuses that came with it. You want to make your visitors do the same.
If you are promoting the product to people that know you, you can build a short bridge page where you are describing your offer and why this offer will help your audience. If you are promoting this offer to a broader audience, you need to explain more in detail and build a longer sales page.
The self-liquidating funnel
This is the recommended funnel is you are going to do paid promotions. Some people don't mind to do paid advertisements because they know they will get their money back later, many people, I included, wants our money back as soon as possible. The main goal with the self-liquidating funnel is to get subscribers for free.
So you want to start with the same landing page as you have with the lead funnel. You are giving something away for free, and they will receive it when they give you their email address.
The difference is on the next step on the funnel. You still want to confirm what an awesome product they will receive in their email, but if they are serious about your topic, they want to look at your next offer. You will write about this offer on this page that will be a mix of a sales page and a bridge page. The visitor will get this offer for free if they order the product you are promoting.

This is what you will learn in the One Funnel Away Challenge. A very successful and highly recommended challenge made by ClickFunnels. You can read more about the challenge here.
The importance of email marketing
Email marketing is the backend of every affiliate business and most businesses. It's with email marketing you want to make sure you are connecting with your audience and educate them.
What is important is to answer why they want the different products you are promoting and give them proof. If you all the time is giving them why you can help them, both in promotions and in your education, they will naturally want to learn how they can be helped. And how they can be helped is answered in the offers you are promoting.
An email address is worth $1 each month. So if you have an email list of 1000 subscribers, you want to earn at least $1000 a month. If you do email marketing correct, you will probably make many times more than $1 for each email each month.
Conclusion
There are many methods and tactics to promote Clickbank products. What I love about using ClickFunnels is that you can scale your business more efficiently. You can do paid promotions where you are optimizing your funnel for the best performance. That way, you will receive your cost for advertising right away and build an email list for free. You can even earn a little income. With email marketing, you can make a lot of money from your free leads.
And if you want to promote your products for free, you can do that too. Then you are optimizing your funnel with free advertising. A piece of wise advice is to use the income you are receiving to invest in paid promotions. That way, you will not lose money in the testing phase, when your funnel is not optimized. And you will earn more money faster when your funnel is optimized.
There is no other software out there where you can scale your business so fast and easy as with ClickFunnels.
So this is the reason for you want to use ClickFunnels to promote Clickbank products.
You can get a 14 day free trial on ClickFunnels here.