Want to start with affiliate marketing and need to know if ClickFunnels can help you? Read here to find out the different ways ClickFunnels can help you improve your affiliate marketing success.
Hi there, my name is Richard and I'm using ClickFunnels. You will now learn how you can use ClickFunnels for affiliate marketing.
I have tested a lot in the make money online niche and I have found out that affiliate marketing is the best choice for beginners. You learn how to do marketing and sell products and you can do it at a low startup cost.
All you need is a website.
Then you need to find products to promote and I love the make money online niche so I have decided to promote ClickFunnels.
Why ClickFunnels?
Russell Brunson, the co-founder of ClickFunnels, is a very knowledgeable and talented guy that teaches a lot and I have learned much from him.
ClickFunnels is a very good software that I love to use
ClickFunnels have also an awesome affiliate program.
You are able to promote multiple very good offers
What is affiliate marketing?
Affiliate marketing is when you are recommending a product or service to others and you receive a percentage of that sale.
What is important with affiliate marketing is that you are promoting quality products and products you have tested or are using. If you didn't like the product, tell your audience why and let them decide if they still want to order it. That way you are honest and you will build an audience that trust you and you will have a long term business.
Why do affiliate marketing?
Affiliate marketing is very affordable since you only need a website and a bit of time. Actually you don't even need a website if you create videos for Youtube.
You don't need your own product. I have sold products and the customer service is not fun. This is also the reason everyone is telling you to outsource the customer service first. In the beginning, you don't have money for that and have to deal with negative customers with high expectations. This doesn't happen much, but it is not fun when it happens.
You will learn how to do marketing and how to sell. This is a valuable skill that is best to learn before you create your own products. Remember that affiliate marketing is also selling.
How To Use ClickFunnels For Affiliate Marketing
So you want to do affiliate marketing and wonder if ClickFunnels is something for you. ClicFunnels is great for affiliate marketing and you will now learn the different methods you can use.
The methods are to promote ClickFunnels or to promote other products by using ClickFunnels.
Promote by using bridge pages for affiliate marketing
A bridge page is a page where you tell the viewer how this awesome product will solve their problem.
This page can be quite simple where you are just presenting your offer and ask your audience to sign up to get your bonuses. This page is for people that know the product and just need some extra push with your bonuses to order. Or they want the product but are looking for the best bonuses.
This bridge page can also be more advanced where you demonstrate how this product will solve a problem for that viewer. ClickFunnels have a very good sales page, but its made for everyone. What you can do is to create a sales page that is targeted for one type of customer. That way you can better demonstrate and show why they need the product.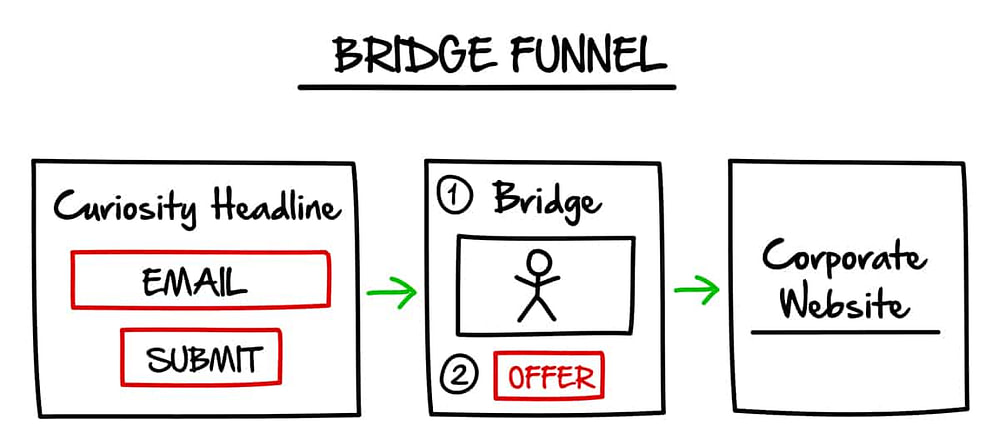 Do email marketing with lead funnels
Lead funnels are one of the best and fastest ways to start promoting. You run traffic to a page where you collect email addresses and then you usually want a sales page where you are selling a product. The goal here is to collect leads for free and build an email list. So the income you receive from the product you are selling will pay for the advertising. This product can be a product you are buying the rights to sell (PLR), affiliate product or a product you have created.
You can read more about how to create lead funnels here.
Then you send emails from an autoresponder and educate and promote products to your email list. Every money earned from emails will be free money.

Use share funnels to promote ClickFunnels
ClickFunnels have something named share funnels. A share funnel is just a funnel you want to share with others so they can import that funnel inside their ClickFunnels account. You can share your funnel with the link you find in the settings to the funnel.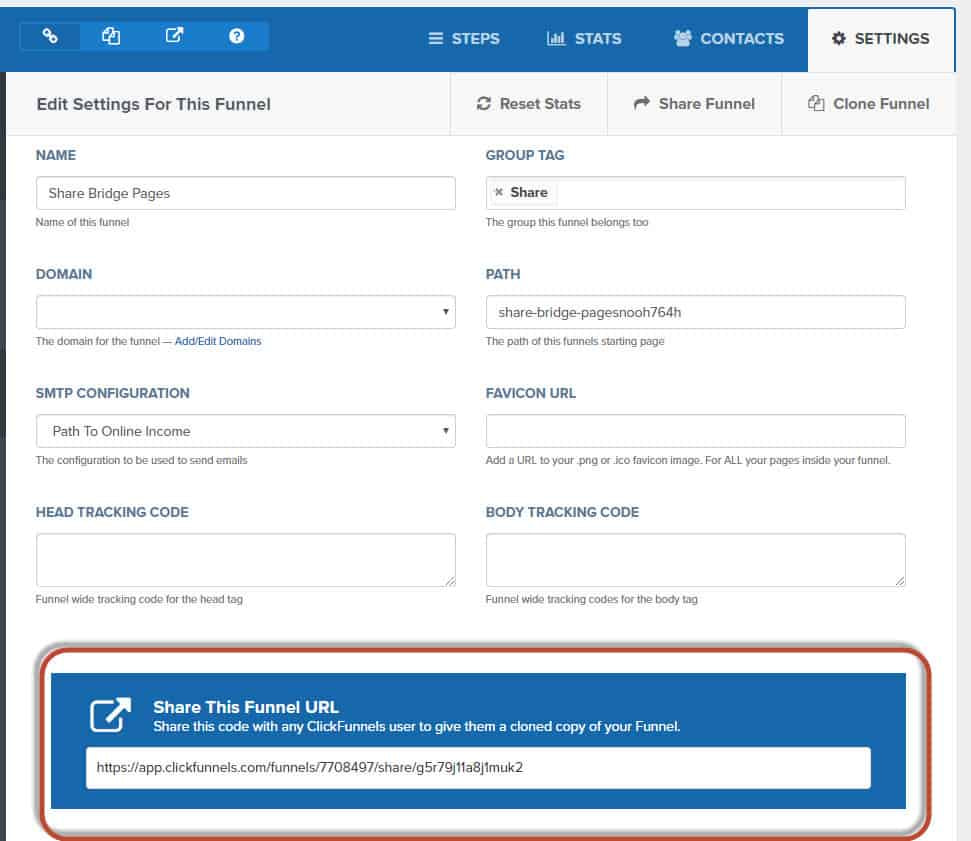 What is so awesome with share funnels is that the person who receives this funnel will have a shortcut to their own funnel. To create a funnel for their business is hard for beginners. When they receive a funnel where they only need to change some images and some words, this is so easy and beginners will not be so overwhelmed.
And what is a genius with share funnels is that if you share a funnel to a person without a ClickFunnels account, you will receive a commission from the sale. I want to mention this is not 100% foolproof. The best method is if they click your affiliate link and you give the funnel after they have joined.
If you want some awesome bridge funnels for affiliate marketing, you can download it here.
You can also check out this viral sharefunnel.
Selling a service where an affiliate product is needed
This is another form of affiliate marketing where you are selling a service where they need a product for you to do your work.
You can sell a service where you increase the leads a business will receive. So how can they get more leads? By using lead funnels!
And what type of software to they then need? They need ClickFunnels and you can give them a sharefunnel they can import to their newly created ClickFunnels account after clicking your affiliate link.
And if you are selling a "done for you" service, you earn money by selling the service in addition to the commission you receive from ClickFunnels as long they use the software.
Done for you services like this can be done worldwide by advertising, but the recommended beginner friendly method is to go locally.
Sell courses to promote products
How many courses have you taken where you need a service to make it work? All the dropshipping courses have an affiliate link to Shopify.
All the email marketing courses have an affiliate link to autoresponders.
All the how to create a blog courses have affiliate links to Bluehost or similar web hosting service.
And I can continue, but I will stick with ClickFunnels since this post is about ClickFunnels.
You can create a course on how to:
Create and sell funnels
Get more leads by using ClickFunnels
Sell more products by using sales funnels in ClickFunnels
Promote products by using bridge pages inside ClickFunnels
And all these courses can be targeted for a specific audience like "How to get more leads to your real estate agency". When you have optimized your preferred traffic method and funnel, you can go to a different market.
Conclusion
I have now given you several ways you can use ClickFunnels for affiliate marketing. Pick one of them and work to make it work and you will see ClickFunnels will help you get your commissions faster and more predictable by using advertising. What is great is that you are more in control of your marketing and you can scale your business.
You can check out my bonuses for ClickFunnels here.