Many think it is hard to create funnels, but with the right software, you can create them easily by your self. So is ClickFunnels easy to use? Read here to find out!
ClickFunnels is easy to use since it made by an entrepreneur for other entrepreneurs that is not tech-savvy. That way entrepreneurs that want to sell products, services, or collect leads can easily create the funnels themself without the need to hire extra personnel to save both cost and time.
So what makes ClickFunnels easy to use? Let's find out!
Why ClickFunnels is easy to use
Russell Brunson, the CEO and co-founder of ClickFunnels, has several times mention the background why ClickFunnels was built.
The short story is that he needed to sell products and services with funnels due to higher advertising cost. That way they the average order value increased and this paid for their advertising cost. You can read more about funnels in my post here.
To create funnels at that time demanded coding and designers what cost money and takes time to create. And every funnel is not successful, so more work is needed to tweak the funnel.
So they created something similar as ClickFunnels to they could create their own funnels without being dependent by other people. That way they saved time and money.
So then they decided to develop ClickFunnels further to sell it as a service. And their goal was to make it easy for entrepreneurs like Russell Brunson that create funnels now and then.
So Russell Brunson, that is not tech-savvy, had to create his funnels by himself. If he struggled, they have done something wrong that needed to be simplified or design the interface better.
Click here to read my ClickFunnels Review.

So how did ClickFunnels make it easier for the customer?
Hosting included makes it easier
This post is written in WordPress where hosting is usually needed. So you need to order this service from a hosting provider. Choosing a provider is not that easy. Do you want a less expensive one that is probably a little bit slower with less customer support? Or do you want to pay more for improved support and speed? What is the correct price for the service you need? And if you are not happy, there is both time and money to pay to change the provider.
With ClickFunnels, hosting is included. You even can order your domain names through ClickFunnels to make it even easier for you. That way you have more time to think about what brings money in your business or side hustle.
Autoresponder is included in ClickFunnels Platinum
Most people need a autoresponder. With an autoresponder, you can mass send emails to your customers and leads you have collected. That way you can market to them after they have left your site. The money is in the list!
The problem with autoresponders is that you are using their servers. So the autoresponders will be wary of what you are doing. So even you are a legit email marketer that doesn't spam, you can break their rules that often end in a temporary or permanent ban.
If you want to send a few emails to promote some very good products that will help your audience, you need to watch out. If you add an affiliate link so you also make some money promoting this product, more than half of the autoresponders out there will ban you.
There are also many other reasons you may be banned or getting reduced service:
Affiliate links
Sending too many emails
If your open rate decreases, as it often does if you are new to email marketing. Your emails will be sent from a lesser quality server that will decrease your open rates even more.
And when you try to change your autoresponder provider, you will lose a lot of emails in the transition.
And when you grow your email list, your payment will also grow. With ClickFunnels you only need to connect to your email provider and you own that email list and you don't pay more as your email list grows.
Design beautiful pages with a drag and drop editor
The ClickFunnels page editor is made so you can drag and drop the different elements around the page. There is no need to do HTML coding, just pick the elements you want and move them around.
Want an image? Pick the image and drag and drop it where you want it. If you want more advanced tweaking, you can change the properties to the different elements to get it how you want it.
Rusell Brunson has even written a Funnel Hacker's CookBook you can read to find what you want to include in the different funnels and pages for optimal success.
This cookbook has some very interesting recipes you should know about. Read more in my Funnel Hacker's Cookbook article.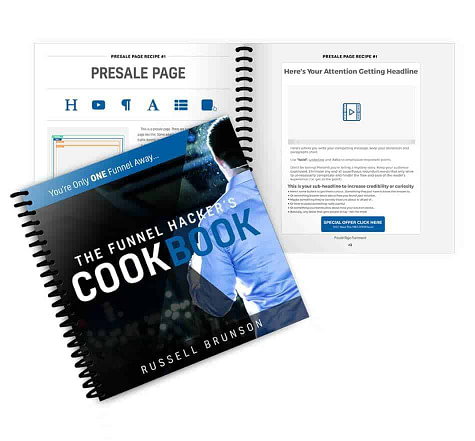 Easy to rearrange the funnel pages
When you create a funnel, you create different pages and set it after each other. Maybe your first upsell doesn't convert as you expected? Then rearrange the pages, maybe your other upsell converts higher?
This can be easily done in ClickFunnels.
Want to know more about sales funnels? Read my guide to sales funnels here.
AB Split testing built in the software
I remember when I ran paid traffic to my e-commerce store. I tried to create a great headline and a good description of the product, but everything was based on luck. Maybe this time I'm lucky? I tried to find software that could do AB split testing for me, but this was expensive so I never tried it.
With ClickFunnels you can do ab split testing so you can optimize your pages all the time. You can create a copy of your page with a click and do some changes. Then you will see if the original page or the copy converts best based on the stats ClickFunnels gives you.
This function not only saves you money, but you will earn more.
Educate yourself with FunnelFlix if you are lost
You may still find ClickFunnels hard to use, if you order ClickFunnels Platinum, you will get access to FunnelFlix. With FunnelFlix you will receive the Netflix for entrepreneurs.
Do you feel lost and need a business opportunity? There is a course for it.
Don't have a product or service to sell? Then you can promote other people's products. There is a course for it.
Have a brick and mortar store? There is a course where you can learn how other people used ClickFunnels to increase sales.
Not sure if you can create funnels in ClickFunnels? There is a course that teaches you how to create funnels.
Want to do email marketing, but don't know how? There is a course for it.
Want to create a product? There is a course for that too.
Do you struggle with your motivation? There is a course for it.
You receive access to courses from other course creators like Frank Kern, Garret White, and Steve Larsen to mention some of them.
Conclusion
ClickFunnels is easy to use and is made for small businesses and solo entrepreneurs that don't have a huge budget to create funnels. That way you can use your time and money to grow your business.
The best way to start with ClickFunnels is by joining their One Funnel Away Challenge. In their challenge, you will learn how to create a working funnel in 30 days by doing daily tasks. You receive daily teaching and you can ask coaches for help if you get stuck.
You can read more about the One Funnel Away Challenge at ClickFunnels by clicking here.